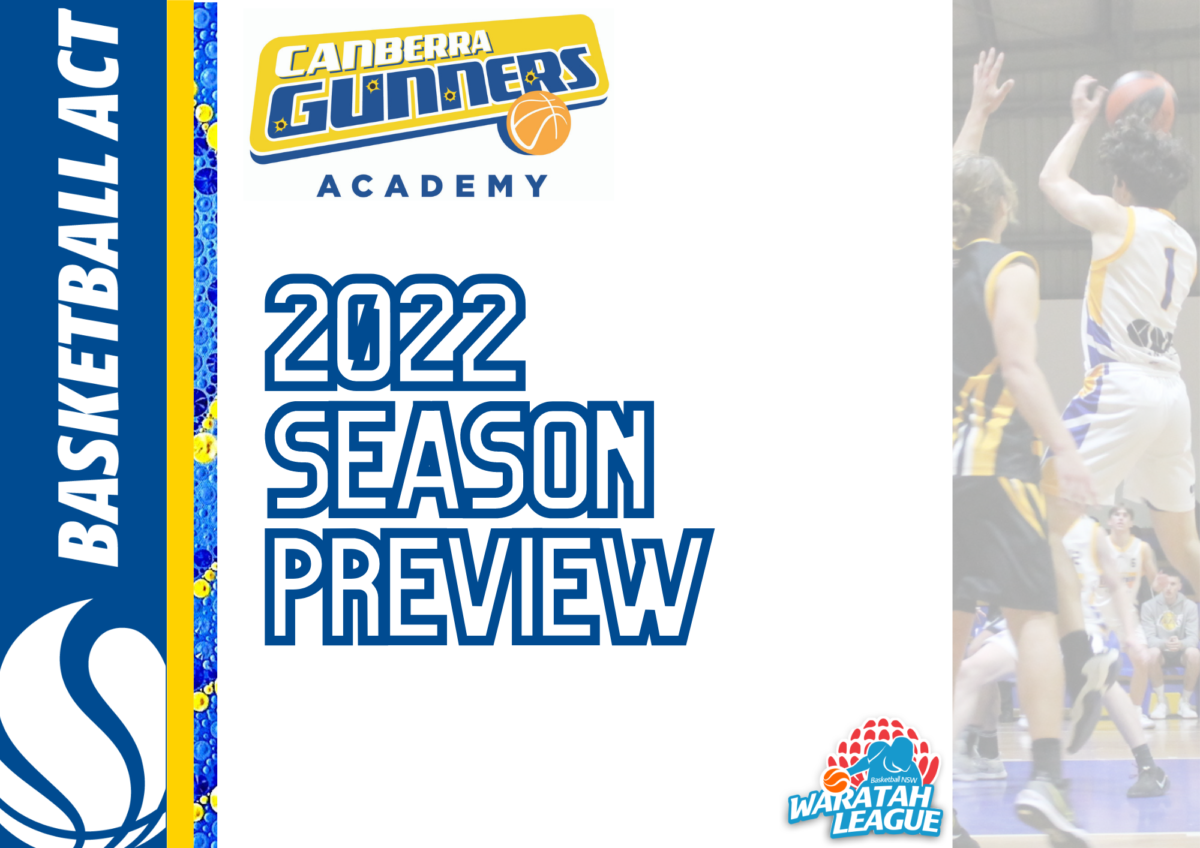 By BACT Media Unit – 1 April 2022
Get ready for another season of high energy, Canberra Gunners Academy basketball!
The Gunners Academy side moved from the Waratah 2 Men's league up to the Waratah Men's league this offseason, and expectations are high for this young group of players. The team will be looking to build upon a winning season, where they finished 5-4 and sat middle of the table.
Keep an eye out for up-and-coming stars Cameron Pender and William Rice, who helped lead ACT to last year's u18s National Championship bronze medal. Another young talent looking to take a big leap forward is combo guard Diing Diing, who will be playing his second season for the Gunners Academy. As ACT u20s representative teammates this season, all three players will be looking to perform well for the Gunners Academy.
With a bye last week, the Gunners will kick off the new season away from home, matching up against the Wagga Wagga Heat this weekend. Led by point guard Chaz Bishop, the Heat are hoping to bounce back from a first round loss and notch up their first win of the year in front of their home fans. The Gunners Academy will be looking to start their 2022 campaign on the front foot, as they aim to put a tally in the win column after their very first game.
A three game home-stand follows for the Gunners Academy, which presents an early opportunity to establish their season in the top half of the ladder by the end of April. First up is the Camden Valley Wildfire, a top 3 team last season.
The following fortnight, their second game at home pits Canberra against St George Saints White, who top the table after a 100-point effort in round 1. Starting at 1pm, the Gunners Academy will be looking for a strong performance against one of the traditionally strong clubs in the competition.
Rounding out April at home, the Springwood Scorchers come to Belconnen on the 30th. The final game in Canberra for over a month, the Gunners Academy will be determined to finish on a high in front of their fans.
With championship aspirations, the Canberra Gunners Academy will be ready and raring to get out there and start dominating the Waratah Men's League.
Make sure you come down to Belconnen Basketball Stadium to cheer on the Academy side, as they take on Camden Wildfire at 1pm on Saturday 9th April.