WHEELCHAIR BASKETBALL
Basketball ACT promotes social inclusion through basketball, including a pathway for individuals with a physical impairment. We offer various opportunities to participate in the sport and can assist parents and caregivers in accessing these opportunities. Basketball ACT strives to create a welcoming and inclusive community on and off the court, through specialised teams, participation in community come-and-try programs, and inclusion in 3×3 competitions & events.
Wheelchair basketball is open to athletes with a physical impairment. It is played indoors on a regulation basketball court. Players are assigned a point value from 1.0 to 4.5 depending on their level of impairment. Teams consistent of 5 players and must not exceed at total of 14.0 points on the court at any one time.
For more information on Wheelchair Basketball Eligibility, see the Wheelchair Basketball Information Sheet (PDF – updated August 2021).
Delivery Partners – Canberra Chargers
Canberra Chargers Wheelchair Basketball is a non-for-profit community based club that looks to promote health and friendships through wheelchair basketball. The Chargers are an all inclusive club that doesn't restrict, but encourages participation from players of all ages, experience and disability levels. The Chargers are a forward thinking sporting organisation that is always at the forefront of anything to do with the health of those who have a disability. You can find out further details about the Canberra Chargers, by clicking below:
Canberra Chargers – Information
What is the BACT Pathway ?
Step 1 – Community Come & Try Sessions
If you or someone you know has an physical impairment and is interested in trying out wheelchair basketball, BasketballACT & the Canberra Chargers hold a weekly community session open to anyone.
The Come-&-Try sessions are supportive and fun, with a goal to develop skills in Basketball.
This is a great step to try out the sport, and can lead to further success down the road with the Canberra Gunners Waratah League Wheelchair Squad, or participating in various competitions with the Canberra Chargers.
Where: Franklin School. Kilkerney Close, Franklin ACT.
When: Mondays, 6:30pm-8:00pm, during the school terms.
Step 2 – State Development Program
Basketball ACT's Wheelchair basketball state develop program is an invite-only training session for athletes that are excelling in our weekly Come & Try Sessions.

This program offers a competitive and skill-based environment for players to enhance their abilities and passion for the sport. A mixture of drill-based sessions, scrimmages, & 3×3 competitions are included in these sessions.

Basketball ACT uses these trainings to select the Waratah League Wheelchair Team.
Step 3 – Canberra Chargers/Canberra Gunners Wheelchair Team
With the help of the Canberra Chargers and Wheelchair Sports NSW/ACT, Basketball ACT enters a team to represent the ACT in the Basketball NSW Waratah League, a NSW competition between associations.

In its inaugural season, the Canberra Gunners made the Grand Final, unfortunately losing to minor premiers, Hills Hornets.
The Canberra Gunners wheelchair team will be back in 2023.
2023 SPALDING WARATAH WHEELCHAIR LEAGUE
Basketball ACT, in partnerships with Canberra Chargers Wheelchair Basketball and Wheelchair Sports NSW / ACT , will once again field a Canberra team in Basketball NSW's 2023 Spalding Waratah Wheelchair League.
The 2023 Season Fixtures are currently being finalised. Stay tuned for announcements shortly.
2023 CANBERRA GUNNERS WHEELCHAIR SQUAD
Basketball ACT is proud to announce the Canberra Gunners Wheelchair squad to compete in the 2023 Spalding Waratah Wheelchair League.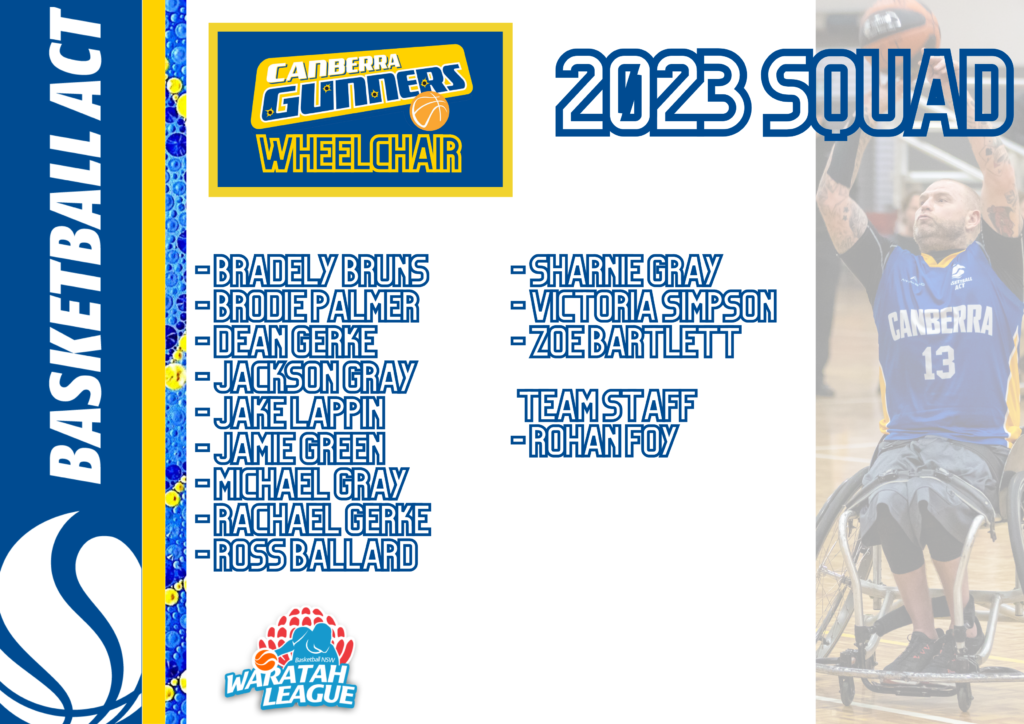 If you have any questions about BACT's Wheelchair basketball program and pathways, or would like further information, please contact our Development team at: