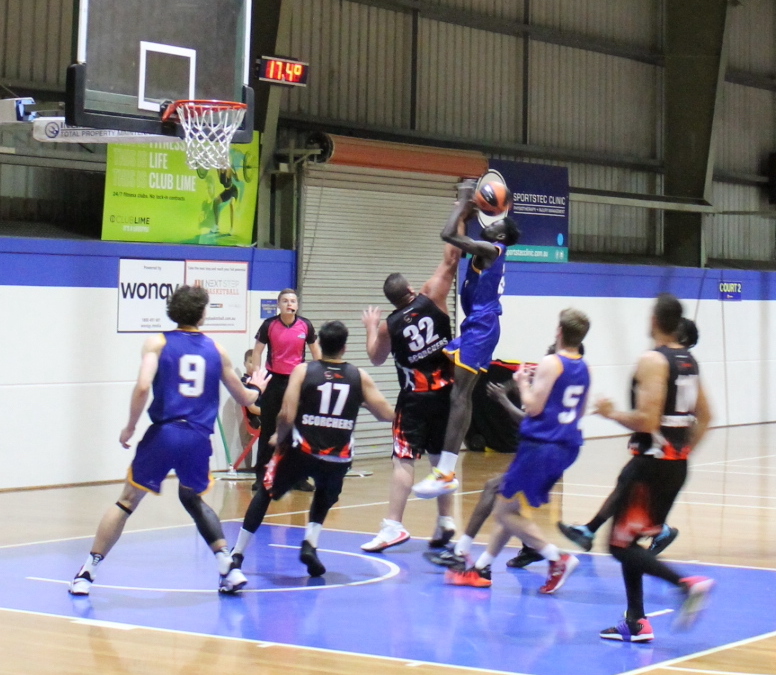 By BACT Media Unit – 3 May 2022
Wrapping up a three game homestand at Belconnen Basketball Stadium, the Canberra Gunners Academy took on the Springwood Scorchers last Saturday night. The Gunners Academy came into this one with a perfect record (3-0) and were keen to keep the momentum rolling on their 2022 Spalding Waratah League season. On the other side of the table, the Scorchers were searching for a way to stop their slide down the ladder, as a Round 1 victory was followed by three straight losses. 
A five-point lead at quarter time to the Gunners Academy blew out to fourteen by the end of the first half, as the home side put the foot on the pedal in an impressive display of offensive firepower. They maintained the lead for the rest of the game, comfortably emerging 89-73 victors in a very physical contest.
Henry Wallace was on fire from outside, connecting on six 3-pointers to lead all scorers with 26 points. He was ably supported by Jordan Hilder, who battled hard inside the paint to finish with 15 points. Robert Emelifeonwu and Jake Saunders (10 pts, two 3-pointers each) rounded out the double-digit scorers, however in a positive team effort, every Canberra player who took the court managed to get points on the score sheet.
For the Scorchers, Hilary Zakria continued his hot start to the year, adding 19 points to his season tally of 67 over 4 games. Nathanael Bennett (15 pts) and Harman Josan (11 pts) were the other major contributors from Springwood.
The victory keeps the Gunners Academy in second place in the 2022 Spalding Waratah League, as they remain without a loss and an average winning margin of 21 to start the season. Their next game is away from home, as Canberra travel to Sydney to take on St George Saints Red on the 7th of May.