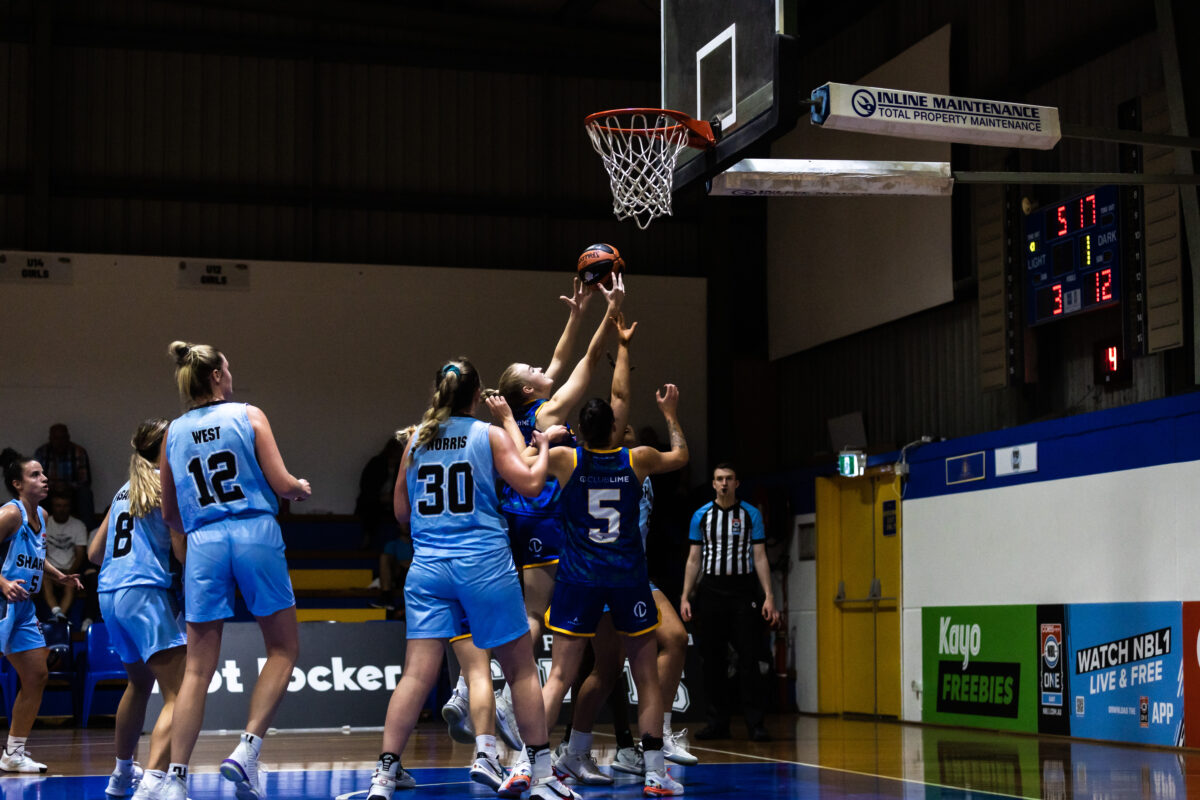 By BACT Media Unit – 13 April 2022
The Canberra Nationals had a busy weekend at home, with two games over two days in the Coles Express NBL1 East competition. Coming up against the Sutherland Sharks and Illawarra Hawks, the Nationals were keen to shake off a heartbreaking loss in Round 1 and notch up a victory at home to kickstart their season.
Their first chance was on Saturday, as the side from Canberra came up against a red-hot Sutherland Sharks. A massive 23-point victory in round 1 meant the Sharks were going to be a tough side to beat.
An double digit deficit at quarter time proved too much to overcome for the valiant Canberra women. They managed to draw even with the Sharks halfway through the 3rd term but never led the game at any point.
The Nationals kept fighting all game though, with the numerous comebacks they mounted exciting the crowd as they drew closer and closer, but it was never quite enough. Lizzy Tonks finished with 21 points and 12 rebounds, while Abby Solway chipped in with 19 points.
The side from Sutherland started the game with an 18-3 run and shot the ball efficiently the whole way through. They were led by top scorer Vanessa Panousis (28 points) and a double-double from Courtney West (12 pts/11 rebs). 
On to Sunday, as the Nationals matched up against the Illawarra Hawks. The Hawks came into this one fresh off a victory the day before, so it was vital that the Canberra side started strongly.
A 7-0 run to begin the game was exactly what the doctor ordered, and even though Illawarra were able to go into the first break up by a point, the Nationals would have been feeling that they were right in the game. It wasn't until the third quarter where the Canberra side began to pull away and a Jasmyn Boutzos masterclass in the fourth meant the Nationals emerged victorious, 65-58.
With 12 of Canberra's last 14 points in the game, Boutzos was instrumental in securing the win, finishing the game with 17 points. Abby Solway (10 pts) dropped in a pair of three-pointers, while Kristen Langhorn and Natasha Lyall combined for 18 points and 14 rebounds.
For the Hawks, Georgia Chrystal Foy, Rebecca Abel and Melanie Kirby (11 pts each) all played strong games.
This win pushes the Nationals (1-2) off the bottom of the Coles Express NBL1 East Women's ladder. They get a break over Easter, before having the BYE for Round 3 but you can catch them back in action for their Round 4 double-header on the road to face Maitland Mustangs (30 April) and Newcastle Falcons (1 May).
All games live-streamed through NBL1.com.au/east or the NBL 1 App.
(Photos courtesy – @daynaransleyphoto)