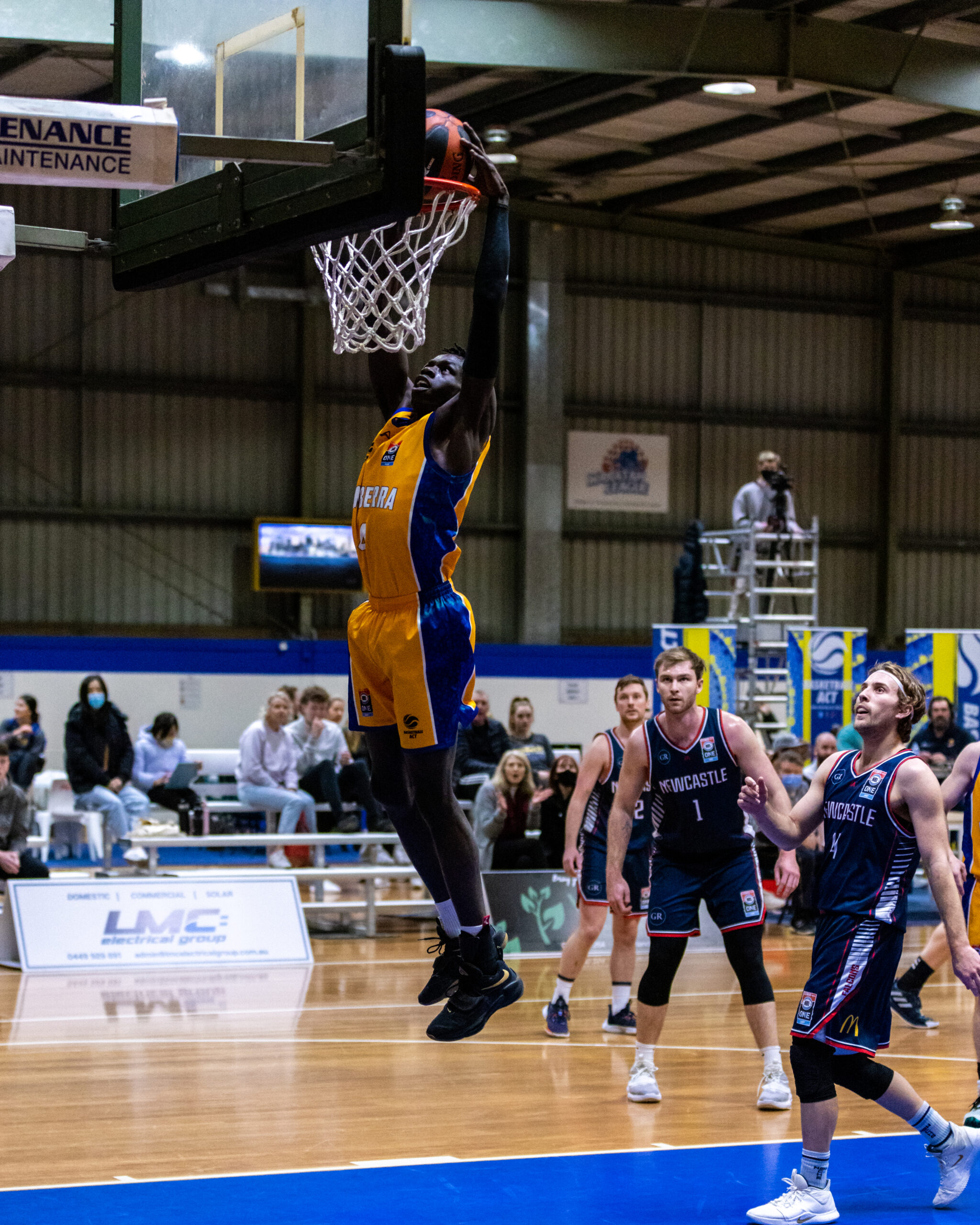 by BACT MEDIA UNIT – 19 July 2022
The Canberra Gunners hit Belconnen Basketball Stadium over weekend to take on the visiting Bankstown Bruins and Newcastle Falcons in nRound 14 of the Coles Express NBL 1 East season..
The Bruins, who came to town having won three of their last five, were first up for the Gunners on Saturday – 16 July – with Canberra keen to halt the Bruin's momentum and hold onto their spot atop the Coles Express NBL1 East ladder.
Akech Aliir got it going in the first quarter, with 11 points, but the home team went into the first break down seven. The Gunners were still down at halftime, before a massive third quarter at both ends of the floor saw them take a big lead into the final term. Canberra was good enough to close out Bankstown in an emphatic 105-81 home victory.
Leading the scoring was Will "The Courier" Mayfield with 22 points and Akech Aliir with 21 points. Glenn Morison (11 pts/9 rebs) and Max "Super" Cooper (12 pts) were the only other players to hit double figures, while Reece "Lightning" Kaye and James Toohey combined for 14 assists in the game.
Lachlan Anderson made six three-pointers for the Bruins to finish with 20 points for the game. Three other players for Bankstown hit double figures but the visitors got dominated inside, conceding 62 points in the paint.
Backing up on Sunday, the Gunners took on the Falcons. This was an absolutely massive matchup, as it pitted first and second on the ladder up against each other in a season-defining game.
Canberra started strong, gaining the upper-hand early in a tight contest. It really opened up for the home side in the second term, with terrific defense leading to easy three-pointers for James Toohey and Mitch Brown especially, who went 3-3 from deep for 11 points in the quarter. The Novocastrians weren't able to mount a comeback, with the Gunners flexing their muscles to blow their ladder-leading opponents out of the water.
"Downtown" Mitch Brown had the hot hand from the bench, draining five three-pointers to lead the scoring with 18 points. Glenn "The Beacon" Morison controlled the paint with 17 points and 7 rebounds, while "Dynamite" Dhal Fieg swiped five steals to pair with 15 points.
For the Falcons, Myles Cherry had an efficient 24 points. Ryan Beisty was the only other player to have an impact, as he double-doubled with 19 points and 11 rebounds.
The pair of victories this weekend has locked Canberra (13-4) into top spot on the ladder and things are looking very positive for them as the end of the season rapidly approaches. The Gunners travel to the Snakepit in Illawarra to take on the Hawks on Saturday 23 July, in what will be another tough game. You can catch all the action on the NBL1 App or at nbl1.com.au/east.
(Game Day photos – courtesy of Discovery One Photography)