2021 Ron Harvey Cup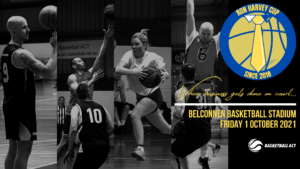 Basketball ACT's annual public service/corporate tournament, the Ron Harvey Cup, is back for 2021.
Open to men's, women's and mixed teams, the Ron Harvey Cup allows you to break free from your desk, ditch those boring meetings and show off your on-court skills.
2020 saw a record number of teams register, so spread the word and get your workmates together for a cracking day of basketball action.
Cost is $250 per team
Registration is NOW OPEN – CLICK HERE
Contact Basketball ACT at events@basketballact.com.au for further details
"The Ron Harvey Cup…..where business gets done on-court !!!"